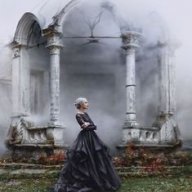 Nov 13, 2020
0
Awards

4
31
*Please don't reply here; message me via PMs instead! Thanks!*
Salutations and welcome!! 😊
I'm Evenstar; I'm a 29 y/o hopeless romantic who loves writing compelling, intricate romantic stories with other like-minded writers! As such, I am here in hopes of finding a compatible writing partner (or two) who has similar RP interests/tastes as I do.
| Rules |
- I'm only seeking patient, intermediate/advanced writers who can write 4+ multiple (decent-sized) paragraphs per reply (and character if we're to double up).
- I'd appreciate it if my partner(s) actively participates in the planning process. I don't enjoy one-sided planning because I might get the impression that I'm doing something wrong and/or it's my fault that my partner(s) is not entirely invested/nor nearly as interested as I am.
- I'd prefer if all main (and secondary) characters are over the age of 25+; it's just a personal preference of mine.
- I'd also prefer if my partner(s) writes only in the third person POV perspective, in paragraph format.
- I'm not a fan of anime/hand-drawn pics used for RP purposes, so please only use realistic face claims (celebrity/model) or a written description of your character's physical appearance.
- And lastly, please be double friendly and OOC friendly.
...............
Historical Romance/Mystery/Suspense/Time Travel:
[Roles = You x Me]
- Scottish Highland Laird x Female Time Traveler/English Noblewoman/Rival Clan's Daughter {Medieval or Regency}
- British Officer x Female Colonist {American Revolutionary War}
- English Mill Owner x Irish Female Mill Worker/English Gentlewoman {BBC's North & South-Inspired; Late Victorian}
- Detective Inspector x Female Time Traveler/Female Physician {Victorian or Edwardian}
- Union/Confederate Soldier x Female Time Traveler/General's Daughter/Doctor's Daughter/Plantation Owner's Daughter
- Lawman/Texas Ranger x Female Time Traveler/Politician's Daughter/Vicar's Daughter
- WWI/II American/British Soldier x Female Time Traveler/Childhood Sweetheart/Nurse
- American/English/Scottish/Irish Doctor x American Heiress {Downton Abbey-Inspired; Edwardian/WWI or WWII}
Urban Fantasy Romance/Paranormal/Supernatural/Mystery:
[Roles = You x Me]
- Seasoned Supernatural Hunter x Witch
- Immortal Highlander x Female Homicide Detective
- Immortal Historian x Female Archaeologist
- Paranormal Investigator x Paranormal Investigator {Husband & Wife team}
Fandom Universes:
[Canon x OC or OC x OC]
- The Lord of the Rings Trilogy
{Seeking Eomer}
Aragorn, Legolas, Boromir, Faramir, Frodo, or Sam
- Harry Potter: Victorian Era
{Seeking Male OC}
- Indiana Jones
{Seeking Indy}
- Star Wars: The Original Trilogy
{Seeking Han Solo or Human Male OC}
Luke Skywalker or Lando Calrissian
- Star Wars: EU Legends
{Seeking Han Solo, Jacen Solo, Kyp Durron, or Human Male OC}
Luke Skywalker, Lando Calrissian, or Jacen Solo
- Star Trek: Kelvin Timeline
{Seeking Leonard McCoy}
Kirk, Spock, Chekov, Sulu, or Scotty
- Star Trek: TOS
{Seeking Human Male OC}
- The Mummy Trilogy
{Seeking Rick O'Connell}
- Watchmen: 2009 Film
{Seeking Daniel Dreiberg}
- Batman/The Dark Knight Trilogy
{Seeking Keaton/Kilmer's Batman or Scarecrow}
O'Donnell's Robin or Bale's Batman
- Superman
{Seeking Reeve's/Cavill's/Cain's Superman}
- Smallville
{Seeking Clark Kent}
- John Constantine Series
{Seeking Constantine}
- X-Men: 2000/2002 Films
{Seeking Cyclops or Wolverine}
- Priest
{Seeking Black Hat}
- TVD/Originals
{Seeking Alaric Saltzman, Damon Salvatore, or Elijah Mikaelson}
Stefan Salvatore, Damon Salvatore, or Klaus Mikaelson
- Xena: The Warrior Princess
{Seeking Cupid}
- Lucifer
{Seeking Marcus Pierce}